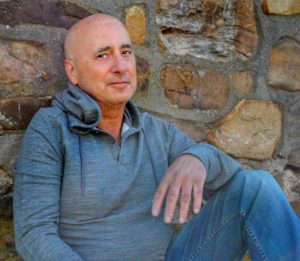 Brandon Lewin, Ease and Lightness Mindfulness founder. Self-taught, and confident in his affinity to connect with students, the extended silent meditation retreats and rigorous training to teach MBSR opened his eyes to the depth of the wisdom traditions from which current day practice originates, as well as the compassion and integrity of active teachers and scientists. Read Omega Institute's interview with Brandon.
Brandon's first forays into meditation were not motivated by altruism; he tried it because he couldn't think of anything else to relieve the hopelessness he felt receiving treatment for lymphoma. Soon after his resolve to practice became stronger as he transitioned through recovery from substance abuse.
Brandon had a fascination with his inner life and mindfulness early on.
As a teen, I remember in quiet moments wondering about the myriad currents of thoughts and emotions. The longing to be able to act in the world in a unified manner—not merely reacting—being blown about like a leaf in the wind became an familiar theme.
Later— in college— he would often recognize, and suggest to friends that "It's all a state of mind." Following his awakening experience during his health challenges, he felt a pull to leave a finance career to pursue this direction.
Brandon is a CFM Qualified MBSR teacher. CFM stands for The Center for Mindfulness in Medicine, Healthcare, and Society at UMass Medical School. He has a 20-year meditation practice, and is a devoted yoga practitioner.
Our Name
Our company was established in 2014. Our name was taken from Eckhart Tolle's landmark 1999 book The Power of Now. Tolle writes
To offer no resistance to life is to be in a state of grace, ease, and lightness.
He continues
This state is then no longer dependent upon things being in a certain way, good or bad.
This is consistent with some of the attitudinal underpinnings of mindfulness-based approaches such as non-striving, non-judging, acceptance, trust, and letting go.
Selected Clients
Bioclinica
Broadridge Financial Solutions, Inc
Cello Health
Colgate-Palmolive Company
Exubrancy
FreshDirect LLC
Harding Loevner
Klara Technologies, Inc
MCM Worldwide
Michael Kors Ltd
Oscar Insurance Company
Pinterest
PNB Paribas Asset Management
Princeton Center for Yoga and Health
PVH Corp
Teachers Pay Teachers
Telaria, Inc
Van Eck Australia Investment Managers
Wisdom Tree Investments
ZO Skin Health